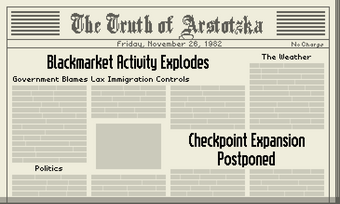 The Truth of Arstotzka is Arstotzka's national newspaper. It is published seven days a week and its editions are distributed free of charge. The front page features important domestic and international news as well as alternating sections for the weather, entertainment, sports, and politics, but the actual text beyond headlines and subheadings is not legible to the player.
It is a possible reference to the Soviet newspaper Pravda ('The Truth').
Gameplay
[
]
The newspaper appears at the start of each day and on the last page of the official bulletin. It is sometimes best to read these carefully before proceeding to work at the border as the information given can contain vital details, such as the Vince Lestrade murders on day 5.
The layout for each day varies from game to game but the main headlines stay the same. Some headlines change to reflect the choices the inspector has made earlier. For example, there are three different headlines about Vince Lestrade on day 6, depending on whether he was detained, denied, or allowed to enter on day 5.
Unused headlines
[
]
The game files contain unused headlines for EZIC attacks and journalist encounters. There are also more detailed subheadings for minor headlines (The Weather, Politics, Sports and Entertainment), but none of these are currently used in the story mode. Unused material reveals that Filipe Hasse has published a book and confirms that Arstotzka borders a sea. The latter is also seen on the map in the rulebook.
EZIC attacks
[
]
[

]
Weather
[
]
Politics
[
]
Sports
[
]
Entertainment
[
]