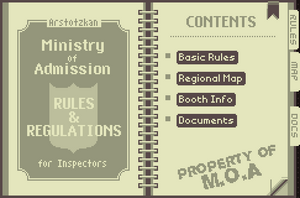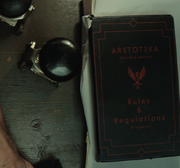 The Arstotzkan Ministry of Admission "Rules & Regulations for Inspectors" (or the rulebook) is an invaluable reference tool including immigration protocol and lists of valid seals and location authority information.
The inspector can use it to verify crucial details of documents and to check the requirements of the day's inspections. The information can be used in the inspection mode to highlight discrepancies.
The five sections of the rulebook are as follows:
The following rules are listed in the rulebook and are in effect at different stages of the game. See a section below for gameplay rules not stated in the rulebook.
Rules not in the rulebook
Edit
The following rules affect gameplay and failing to adhere to them leads to a citation. They are introduced in the official bulletin but are not mentioned in the rulebook.
| Rule | In effect | In-universe reason, if given |
| --- | --- | --- |
| Wanted criminals must not enter | since day 14 | Ministry of Admission begins co-operating with Ministry of Justice to apprehend criminals.[15] |
| All denials must be accompanied by a reason for denial | since day 18 | Unfavorable international press concerning practices at the border.[16] |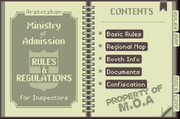 Unused rules
Edit
The game files list rules that are not currently used in the release version. They mostly reflect ideas abandoned during the game development.
No entry from Antegria
No entry from Kolechia
No entry from Obristan
No entry from Republia
The four are in force but not directly listed on day 1
Detain all Kolechians
Fingerprint all Kolechians
Foreigners must be 18 or older
Workers must have a work permit (reworded as Workers must have a work pass in the release version)
Goods must have a customs permit
No entry for foreign military
Maximum visit of 14 days
References
Edit
Cheat sheets – fan-made sheets to speed up processing entrants