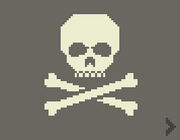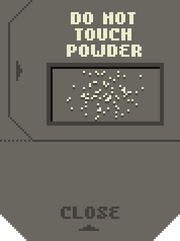 Extremely deadly poison is given to the inspector on day 20 by an EZIC messenger. They also give an EZIC note telling the inspector to use the poison to kill Khaled Istom, an assassin trying to ruin the EZIC plans.
The poison is inside a small package, over a film. Opening the package will reveal the poison with the warning "do not touch powder." If the inspector touches the powder, he will die, causing the game to return to the title screen.
The poison can be applied on Khaled Istom's (or anyone else's) passport by opening the package by clicking on the arrows three times (revealing the instruction "push hard to affix") and then aligning the poison anywhere on the passport and clicking on the film. If the poison is on the passport, it is safe to touch (for the inspector, at least). If the poisonous powder is clicked on at any other point, it disappears and the screen starts shaking while flashing white a few times, implying that the inspector came too close into contact with the poison. The game then returns to the title screen.
If the inspector hands over the poisoned passport to Istom, two events can occur, both leading to the same long-term objective (helping the EZIC order):
If Istom is allowed entry, he will vomit blood on the passage on the right of the booth and then die. A guard (never Sergiu) will go to check him out and will also collapse.
If Istom is denied entry, he will collapse near the other entrants waiting in the line; most of the people in line will then run away in panic, while three of the entrants close to Istom collapse on the ground.
In both cases, the inspector will help EZIC, which counts towards ending 19 but completely prevents getting ending 20. Poisoning will also trigger the headline "Mysterious poison hospitalizes several" in the next day's newspaper.
It is possible to poison any entrant on day 20. They will collapse, the day will end and this will count as having failed the EZIC task. This does not trigger the newspaper headline.
It is possible to use the poison without killing anyone by poisoning the passport of an entrant who will be detained (if any appear).
Otherwise, the poison will be disposed of at the end of day 20.
If you wait until the day is over, and every one from the line is gone, no one on either side of the border will be poisoned. This does trigger the newspaper headline.
Community content is available under
CC-BY-SA
unless otherwise noted.