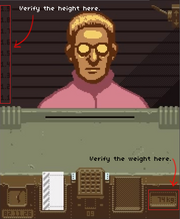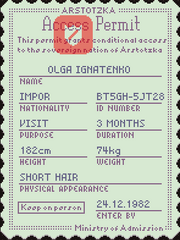 An entrants' physical characteristics, including height, weight, and a description of physical appearance are listed on several documents, such as ID supplement, and may be compared with the entrant to ensure their identity.
The booth's weight display and the lines behind the entrant are used to verify entrant's weight and height. The player cannot select the height lines in the inspection mode directly and must select the entrant's head and the document that has the apparently different height to verify a height discrepancy.
A discrepancy in all of these fields except weight or sex leads to fingerprint testing. A weight discrepancy or an apparent sex discrepancy leads to a search.
Documents listing physical characteristics
[
]
Possible descriptions
[
]
Table below lists possible descriptions for male and female entrants. The description needs to match the entrant's head. Some of the features never appear in photos but may still appear in the description field (like large curly locks).
Males
Females
Hair-related

Bald
Balding
Bobbed hair
Cropped hair
Dark hair
Flat-top hair
Huge afro
Mohawk
Large curly locks
Light hair
Long curly hair
Long straight hair
Long wavy hair
Shaved head
Short cropped hair
Short curly hair
Short hair
Short light hair
Short straight hair
Totally bald
Unkempt curly hair
Widow's peak

Hair-related

Afro
Bobbed hair
Curly bobbed hair
Curly hair
Dark hair
Huge afro
Light curly hair
Long curly hair
Long hair
Long straight hair
Shaved head
Short hair
Short curly hair
Short wavy hair
Straight hair
Very short hair
Wavy hair

Vision-related

Good vision
Glasses
No glasses
Perfect vision

Vision-related

Glasses
Good vision
No glasses
Perfect vision
Thick glasses

Other
Other

Overweight
Round face
Slim figure
Small head

Facial hair-related

Beard
Clean shaven
Goatee
Killer sideburns
Large mustache
Large sideburns
Mustache
No mustache
Pencil mustache