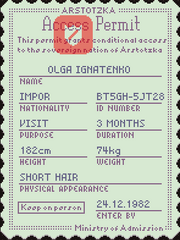 The identity number or passport (serial) number is a string that identifies an entrant and the passport issued to them. Unlike what the name suggests, it is a 10-character-long string consisting of both numbers and letters with a dash in the middle (e.g. T6H73-BP2J4). An exception to this is Jorji Costava's passport, which contains only 9 characters (GCD7-FMBAR). The string must be consistent on each document they are carrying. If the string is not consistent on all documents, the entrant can be detained.
Gameplay
[
]
This string is present on almost every document issued by the Ministry of Admission; as well as the Diplomatic Authorization.
Notably, it is not present on the Arstotzkan ID card.