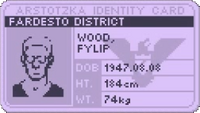 The Arstotzkan identity card (ID card for short) is a document that Arstotzkans require to (re-)enter Arstotzka. It contains the citizen's identification, consisting of their name, date of birth, height, weight, photo, and home district.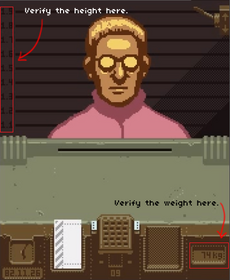 The following is a list of discrepancies the player should watch for when presented with an identification card.
Date of Birth (D.O.B) – Verify that the date of birth matches that of other documents.
Photo – if the photo on the ID does not match with the person holding it, or if it does not match with the photo on the passport, it is important to highlight it and interrogate the citizen. The inspector will be given the opportunity to fingerprint the person and verify their identity.
Name – The name sometimes may not match some of the other documents; interrogate the owner of the ID if there is a discrepancy in the name.
Height – occasionally, the height of the ID's owner may contain false information (verify the height by checking the measuring lines behind the person;). Because the height could naturally change, a fingerprint test is required to determine if the identity is valid or if the person is an identity thief that should be detained.
Weight – similarly to the height discrepancy, sometimes, the reported weight will be off (verify by looking at the scale's display at the lower right corner of the booth). Citizens with this discrepancy must be searched beginning on day 7. Failure to search in such instances could result in letting a suicide bomber who will cut the day short, or could allow a smuggler to bring in contraband.
Community content is available under
CC-BY-SA
unless otherwise noted.