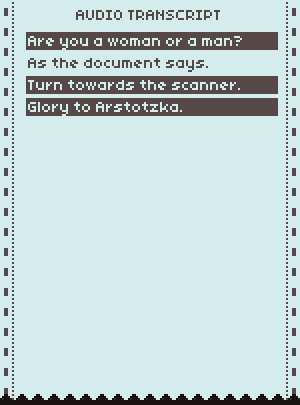 An
audio transcript
is a record of the conversation between the
inspector
and the
entrant
. It is on a piece of paper located behind the microphone in the middle of the
booth
in the desktop version and next to the weight indicator on the left side of the booth in the tablet version. It can be pulled out and kept on the counter to speed up inspection. Even though the audio transcript is out, things said will still appear on the document. However, the inspector's "
Papers please
" is not recorded on the transcript.
Upon entering the booth, the inspector asks the entrant about the purpose of their trip. If the entrant is a tourist, worker or transient, the inspector will also ask about duration of stay. Both of these may conflict with the documents the entrant carries. The transcript is used to point out these discrepancies in the inspection mode.
The transcript resets before each entrant, so it is impossible to check previous conversations once a new entrant has entered the booth.
Community content is available under
CC-BY-SA
unless otherwise noted.